Ocean Paddling Adventures
The south shore of Moloka'i boasts the longest continuous fringing reef of the U.S. and there is no better way to experience its beauty than from the seat of a kayak or the deck of a stand up paddle board. From guided adventures suitable for all skill levels, to equipment rental for those that want to get out and do it on their own, Molokai Outdoors Activities can help you realize your vacation dreams.

Kayaking and Stand Up Paddle Board Pricelist




Downwinder - Year Round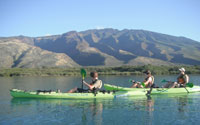 Beginner-Intermediate
5 miles from Kamalo Harbor to Rice Patch

Intermediate to Advanced
8 miles from Kamalo Harbor to Hotel Molokai


What To Bring
Towel, sunscreen, reef boots. Make sure personal belongings are sealed in a waterproof container or bag.


What To Expect
Kayak or stand up paddle over Molokai's south shore reef as the trades gently blow you along. Experience an artists dream as you see the multitude of colors that the ocean has to offer.

Do some kayak/SUP surfing inside the reef, waves permitting. Watch the turtles swim up the coast and who knows, maybe see some whales

Tide permitting, the tour travels inside and outside the reef and is one of the safer places to kayak in the State of Hawaii.

Depending on weather/tidal conditions we may use an alternate route if the Kamalo run is not suitable. ADVANCED SUP Paddlers let us know and we can do a one on one private tour for you on one of our more advanced courses

BOOK NOW
Downwinder - Year Round




Sunrise SUP

Beginner to Advanced
Experience the calm water of the morning with the sun rising up from Maui. See the turtles cruising in the morning rays. What better than to start your day upon the ocean and looking at Molokai, a majestical island!.


What To Bring
Towel, sunscreen, reef boots. Make sure personal belongings are sealed in a waterproof container or bag if you are bringing with you in a small backpack. Waterproof cameras are always good if you have one of those.


What To Expect
We will meet you at either Kaunakakai harbor or another location based on weather conditions Tour is about 1-2 hours and starts anywhere from 6.30-7.30am.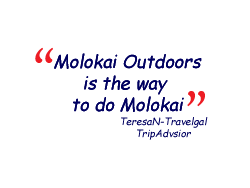 Full Day Adventures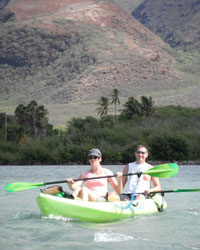 Enjoy a full day of fun on the island by combining any of the Downwinder Paddle Adventures with a mini Molokai ground tour.

Please try to arrive early to Molokai to maximise your day and leave anytime after 4.30pm Lunch will be provided. The pricing and time is the same as an island tour.





Equipment Rental
Rentals based on 24 hours. Discounted weekly rates are available. Delivery is available with a 24-48 hour advance notice.


Ocean Kayaks
Single and Double, Malibu II or equivalent.
Scuppers and Prowler
All kayak rentals include seats, paddles, leash, and lifejacket(s).
Tow ropes are optional and must be requested.


Stand Up Paddle
Large selection of boards featuring Naish and some Starboard race boards.
The Starboard race boards are part of the Youth Program and all rental money will go to Youth In Motion's Ocean program. Used equipment is all part of the Youth in Motion fundraising program.