Kalaupapa Air Tours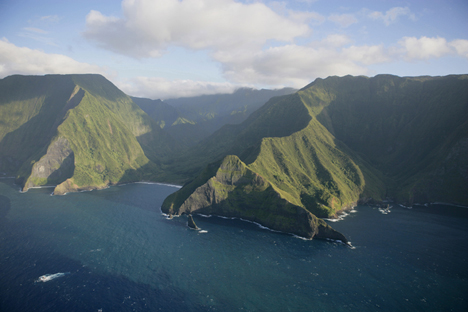 Flying into Kalaupapa offers breathtaking views of Molokai's North Shore. CURRENTLY THERE ARE NO AIR PACKAGES INTO KALAUPAPA. YOU WILL NEED TO CALL THE AIRLINE DIRECT AT 1-808-834-5813 TO SCHEDULE A FLIGHT INTO THE PENINSULAR.
WE ARE WORKING ON A PACKAGE BUT AT THIS TIME IT IS NOT AVAILABLE.
HOWEVER IF YOU WANT TO EXPLORE THE REST OF THE ISLAND WE DO HAvE OUR ISLAND TOUR THAT IS PACKAGED WITH MAKANI KAI AND YOU WILL STILL GET THE BREATH TAKING VIEWS AS WELL AS AN INCREDIBLE DAY ON MOLOKAI.

There is a weight restriction of 249 lbs for individual passengers on the small plane.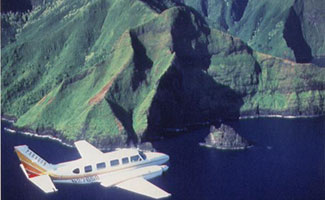 Kapalua, Maui Flight & Ground Tour Package
ON HOLD FOR NOW - PLEASE CALL MAKANI KAI AIR TO SEE ABOUT FLIGHTS FROM KAHULUI to Molokai and then take the flight into the peninsular. Please bear in mind there is a lot of airport wait time for a 3-4 hour tour when trying to go to Kalaupapa.
We do offer our full island tour on Molokai and you can still see two of Father /Saint Damien's Churches, along with spending time at the overlook to Kalaupapa. Call is toll free 1-855-208-0811 for instant Island Tour reservations. You can also book your flights to the main airport of Molokai, Hoolehua if you want to do our island tour at Makani Kai for $100 r/t! If you book the Island tour online then more you save!